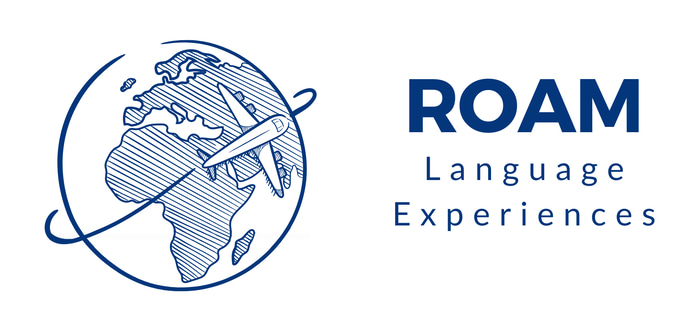 Registration and Admission
What are the requirements for students to participate in ROAM?
Students participating in ROAM meet the following requirements:
Be between 14-18 years old on program departure day;

Enrolled in grades 9-12 in a public, charter, or private high school, or they may be homeschool students;

Intermediate and above language proficiency (typically students who have taken 3+ years of daily Spanish instruction);

Possess (or can apply for) a passport with eligibility to stay in the target country, valid through 3 months after returning home from the program;

Active health insurance policy with international coverage for emergency medical care;
What makes a student successful in ROAM?
ROAM students thrive the most when they're open to using their language with others of similar levels. Enjoyment comes from discovering the target culture together through the language, so we recommend that ROAM students be open to making new friends from around the country and beyond. ROAM also promotes independence and problem-solving, meaning that the most successful students are those who welcome new ideas, giving them practice for their real-world, multi-cultural lives.
What are the steps to start the ROAM journey?
ROAM students either join the program from their own research or through recommendation by a language teacher that knows them. Once a student registers for more information and plans to join the ROAM experience, they complete the following steps:
Get connected with a ROAM coordinator that will be your personal guide in the months leading up to ROAM;

(Optional) Attend an information night via Zoom for more about the process

Review the language expectations of ROAM and complete a language diagnostic;

Complete the program application package, including personal information and language goals;

(Optional) Apply for University Credit for the program through the partner university;

Be admitted to the program based on your application;

Create payment account and plan fundraising, including donation portals and sales;

Meet their language group of fellow students at your language level

Get final itineraries and flight arrangements from ROAM operations
How does University Credit work with ROAM?
Each ROAM program offers unique, optional university credit options for participating students. The credits require full program participation, as well as additional brief coursework during the days after returning from the experience.
University credit options for ROAM programs are released the September prior to the program year. Check out your program's page for more information!
Transportation and Lodging
How do flights work? How will my student know where to go when they arrive?
Will my student be using public transportation?
Students' airfare is built into the cost of their program. In areas with large populations of ROAM students, such as Grand Rapids, MI and Phoenix, AZ, students may be booked to fly together in groups with a ROAM staff member traveling with them; in other areas, students may fly individually to their ROAM destination. ROAM staff works with each participating student to ensure that they have clear travel arrangements, and are available throughout departure and return days 24/7 to resolve any flight issues.
All students are met by ROAM staff upon their arrival in the target country. As groups of students arrive, they travel together via charter transportation to their hotel.
The standard ROAM itineraries do not include public commuter transportation, as students move from activity to activity via charter transportation, intercity rail, or even on foot. However, some immersion activities may be available for students to use their language on public busses or subways, led by ROAM teaching staff.
Where do ROAM students stay?
Students and staff stay at major hotel properties located in choice areas of their destination cities. During their stays, students are responsible for respecting their rooms and roommates, and any additional room charges will be forwarded to students for payment.
What are the rooming situations on ROAM?
Students room with other students of their language level, allowing them to build new friendships with others who they can identify with. As part of their trip registration, students may select quadruple, triple, or double-occupancy rooms.
Students may request roommates if they know fellow ROAM participants or get to know another program student in the months leading up to the program.
What is an average day in ROAM like?
ROAM days are full of activities catered to students' language level and cultural learning. To that end, a typical day has a combination of cultural site visits, interactive activities, and out-of-the-classroom language lessons.
A sample day on a ROAM Meseta (Madrid, Sevilla, Toledo) trip includes the following:
8:00: Group breakfast

9:00: Bike tour of historical city center

11:00: Conversation break

12:00: Behind-the-scenes tour of Arabic gardens with picture contest

1:30: Lunch (Small group)

3:00: Break at hotel

3:45: Cathedral visit and tower climb

5:00: Small-group Street Art scavenger hunt

6:30: Maritime history cruise

8:30: Group dinner

10:00: Night-time city walk (Small group)
ROAM students start their day with group breakfasts at their hotel property.
For lunch and dinner, meal plans depend on the language and culture activities of the day. Students will either have their meal together as a large group in a carefully selected restaurant, or they will have their meal with their language group of 10-12 students that they've gotten to know.
What is the student-to-staff ratio of ROAM?
For nearly all activities, the student-to-staff ratio is 8-10:1. However, some activities have smaller groupings.
Who is the ROAM staff that will be working with my student?
ROAM staff includes current and former language teachers with experience in international student travel. ROAM staff collaborate to develop the program's series of events, including immersive workshops and activities based on their passions and teaching strength. The teachers that make up the ROAM staff have a fundamental value in common: they want to ROAM to live language and not just study language.
How do I know my student's daily schedule of activities?
Because students are grouped by language proficiency, ROAM students are often doing different activities at the same time, making for unique schedule for every ROAM student. However, prior to departure, families will receive a detailed itinerary for their student that reveals the cultural and language activities that they will take on in ROAM. Itineraries may evolve during the program due to extenuating circumstances, but families will regularly receive communication during the program.
How can I stay in touch with my student?
Students may bring cell phones for the duration of the program, but families will receive guidance about proper phone usage and risks that come with cellular data and billing when traveling abroad. Students may choose as part of their registration to acquire a SIM card for the duration of their program, allowing them to have cellular data on the ground during their program; however, it is the responsibility of the student to keep their US SIM card safe to place back in their phone upon departure.
Do students have to participate in all activities on their itinerary?
During ROAM, students are expected to make an effort to participate in all activities and workshops, as these have been created and designed to immerse students in the target language and culture. As part of program teambuilding, ROAM staff members mentor students in taking risks and challenging themselves to become better speakers of their target language.
How does ROAM manage my student's dietary restrictions?
The Operations Department behind ROAM distributes allergen and intolerance information to dining venues well in advance of the trip. Upon arrival at a dining venue, students with dietary restrictions have their meals confirmed by their main ROAM staff member contact. On occasions where ROAM language groups find their own meals, the corresponding ROAM staff member(s) chaperoning the group will interact with selected venues to ensure appropriate, quality meal options for students.
For students with severe food allergies that require intervention (e.g. epiPen), this will be managed in collaboration between staff members, the student, and their family.
What if my student takes prescription medications regularly?
As part of program registration, students and families provide medical information, including medications that students will maintain themselves, as well as any medications that require a ROAM staff member to dispense. Prescription medications dispensed by ROAM staff must be confirmed with an active prescription and must include a 30-day supply in a standard prescription bottle with proper dosage and interval labeling matching information provided upon trip registration.
What about over-the-counter medicines?
Students are strongly recommended to carry and manage their own over-the-counter medicines so that they have quick access to them in case they need (e.g. onset of a headache). In rare instances, ROAM staff can carry and dispense over-the-counter medications; similar supply and packaging requirements will apply.
What health insurance requirements are there for participation in ROAM?
Participating students are required to have primary health coverage active through the end of the calendar month that their ROAM program ends (e.g. policy active through August 30th if a trip ends August 7th). Families are encouraged to consult their policies for procedures in case of medical treatment or emergency services provided abroad. In most cases, medical treatment abroad will require a payment in-full prior to discharge, and then the student's primary healthcare plan will process and approve or deny a reimbursement. Any charges incurred to ROAM Language Experiences or Guardian Travel Group are the responsiblity of the student's family to reimburse.
What are the procedures for medical treatment and urgent/emergency care?
At ROAM, we expect the best but plan for the worst. Our experienced student-travel team has clear, outlined procedures for ensuring that all ROAM students and staff are cared for in case of a medical emergency.
Should a student require urgent or emergent care, their ROAM staff member ensures that they are safe first, and then reaches out for medical assistance. Once medical care is confirmed on its way -- or the student and staff member are en route to an urgent-care or hospital facility -- the student's family is immediately contacted either by them or the ROAM staff member supervising them. The student's family then collaborates with ROAM leadership to establish a communication plan so that the student's family is engaged in the process of their student receiving medical assistance. ROAM staff remain with students through all stages of urgent and emergency care.
For non-urgent medical assistance, ROAM leadership and the student's family will collaborate on the best plan of action in collaboration with local healthcare systems.
In all cases involving medical treatment, ROAM students will not be expected to communicate about their condition and treatment with providers in their target language; ROAM staff members will serve as interpreters or provide support to prevent misunderstandings or anxiety.
How will my student stay safe in city settings?
It's a priority that ROAM participants are safe themselves and that their belongings are safe. ROAM staff and students follow the following procedures and expectations to reduce the likelihood of petty crime (e.g. pickpocketing):
No ROAM student is to ever be alone, and are typically assigned to activities with the other students in their language group;

The only time ROAM students may be separate from their corresponding staff member(s) is in enclosed, ticketed environments (e.g. theme park). In these cases, students are given clear meet-up instructions, including locations and timelines;

Students receive coaching at the beginning of the trip of how to avoid pickpocketing and how to keep their bags safe;

All ROAM participants follow clear steps to feel safe again if they are unsure in a situation;

Regular checks for personal belongings not being left behind in transit or at activity venues;
All ROAM programs are documented with the United States Department of State, local embassies, and consulates of the United States through the STEP program. Click here for more information.
How do payments work for participating ROAM students?
To streamline the payment process, ROAM Language Experiences uses a WeTravel travel booking portal, allowing participating families to manage their accounts and payments seamlessly through the one-stop-shop WeTravel hub.
Program fees for ROAM are divided into 5 monthly payments, beginning in October prior to the program. Payments can be handled through WeTravel via credit/debit card and checking account. An auto bill-pay option is available.
For any payment questions, ROAM staff is always available to help.
Each ROAM experience has different fundraising options attached. However, nearly all ROAM programs offer two ways to fundraise up to the full cost of the program:
Contribution pages. Each student participant can activate a contribution page and share the link with friends, family, and community members who can easily contribute to the student's overall program costs. Contributions may be taken via debit or credit card, and students have the ability to track those who contributed to their fundraising campaigns.

Direct sales. ROAM programs also allow participants to offer direct-to-home sales of products pending availability in their region. Participants receive fundraising information near the end of trip registration the fall prior to the program.
Funds raised after payments have already been made are credited retroactively to the individual who made that previous payment.
What happens to my payments if I cancel my student's participation in ROAM?
Student payments are protected by an optional Trip Protection Plan, which will allow for an 80% refund up to 72 hours prior to trip departure.
Additional Post-Departure Insurance may be offered, depending on the ROAM program selected. Consult your registration guide.
What happens in case I want to cancel my trip registration?
ROAM offers a Trip Protection Plan (TPP) for all participating students. The TPP allows for a refund of 80% of trip payments due to cancellation for any reason up to 72 hours prior to departure on the trip. TPP plans are handled in-house through ROAM, allowing for a quick turn-around for any refunds through an active TPP.
Trip Protection Plans may be added within 14 days of the initial trip deposit payment.
What about insurance in case of illness or emergency?
ROAM also offers Post-Departure Insurance that provide coverage for travel delays, lost baggage, emergency medical expenses and emergency medical services. Consult each ROAM program's registration guide for more information.